Preliminary Study prior to the restoration


of Saint-Sulpice Church, Paris
Study of Eugène Delacroix's Paintings
in the Chapel of the Holy Angels
The study included a condition report, a diagnostic evaluation, an intervention protocol and a financial estimate for the restoration.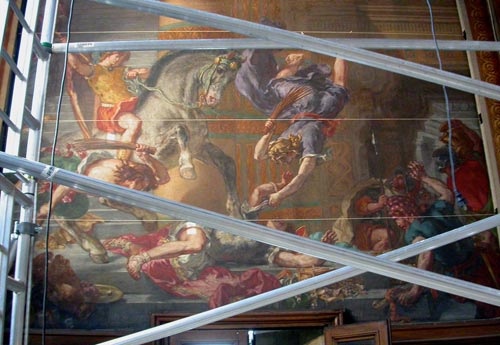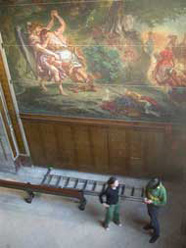 Installation of the scaffolding to facilitate the study.


In 1849, Eugène Delacroix (1798-1863) was commissioned by the Department of Fine Arts to decorate the Chapel of Holy Angels in the Saint-Sulpice Church in Paris. According to his journal, he considered numerous themes before settling on
Heliodorus Driven from the Temple
and
Jacob Wrestling with the Angel
for the two wall paintings and on
Saint-Michael Defeats the Devil
for the round ceiling mural. Only in 1861, twelve years later, did he complete the chapel.
After extensive research of the paintings and of the decoration of the chapel, Cecile Charpentier prepared a condition report complete with photo-documentation and mapping of the alterations in order to propose an intervention protocol and to evaluate a budget for the future restoration.
Sponsor
City of Paris, COARC.


Team
Painting restorers : Cecile Charpentier and Guillaume Bénard-Tertrais


Mapping of the Alterations included in the Study